Moving on up
Report of match Millwall 0 Burnley 1 played 1st October 2011
Reporter Steve Brown
Having volunteered for this match report before the season started and planning a weekend in London with my daughter, I was dreading reporting on this match until last Tuesday night.
Suddenly we had a right back, a central midfielder and a defence that was beginning to look a bit more solid than a house of straw.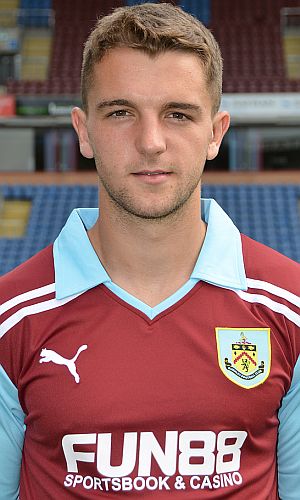 Jay Rodriguez' shot took forever to reach goal
Went down on Friday and that evening went to Shakespeare's Globe to see a play at night. The Elizabethans deserve a medal for sitting on those wooden benches for 3 hours and paying £5 for a bottle of bitter. However it was a great experience.
I've never been to Millwall and I didn't know what to expect. Would there be numerous gangs hanging on street corners waiting to pounce on unsuspecting away fans or just your average away game? I know the locals were not going to be too worked up about this game but all the Millwall fans I met were friendly. However we did get a glimpse of the potential towards the end of the game when an object was thrown at Trippier which delayed play for several minutes while stewards moved in.
What can I say about the first half? I made one page of notes while the second half generated five pages. I don't remember either team having a shot on target and the clarets goal was straight off the training ground. Bartley won a corner, Wallace low into the box to Rodriguez about 15 yards out who hit a shot low into the goalies right hand corner. It's a Burnley signature move but this time Rodriguez did not hit it cleanly and it seems to take forever to reach the goal with the keeper moving like a bag of cement failing to keep it out.
The only other eventful incident was a Trippier booking deep into extra time. Halftime was spent having a beer outside the ground discussing the following. How would the attack that can't score (Millwall, only four goals at home in the league) fare against the defence that can't keep a clean sheet?
The second half was more frenetic, with Kenny Jackett having shuffled the pack bringing on Marquis for the anonymous Simpson at halftime. Marquis was to have a busy second half. Millwall had a succession of corners and eventually they forced the ball into the net. The home crowd celebrated but the assistant referee's flag had been up long before the ball hit the back of the net. We held firm and gradually came back into the game with Stanislas firing over the bar after twenty minutes. Grant produced a good save from Feeney and he was having one of his better afternoons, constantly coming out and claiming numerous crosses. Earlier this week there was debate about whether we needed a fourth goalkeeper and was Eddie wasting time looking at another keeper. Before the game I said if he was better than what we had get him in. Today Grant looked in command and solid.
The game never dipped and each set of teams looked fit, given the temperature, it was an impressive work rate. On 32 minutes we had a heart in mouth moment as Marquis went down in the box only for the ref to book him for diving. It wasn't a penalty but I've seen them given. After the game Jackett claimed it was a clear trip, but I was sat right behind and it was not a penalty for me but the booking was very harsh. We moved into the last minutes and as expected Millwall summoned a last effort. Three corners and a long throw into the box put us under pressure with a desperate save on the line from the last man.
The final whistle brought three points and it was a scruffy win. Millwall fans on the train were sure they deserved a point but I disagree. We went into the Lion's Den, played with determination and grit to take the three points. There's the difference, we would have folded weeks ago but we are starting to look a different prospect. Hard fought victories away are the beginning.
I'm enjoying reading Tony's retelling of our promotion season from the fourth division. I'd forgotten getting stuffed at Scarborough but a few weeks later the away win at Northampton will live forever with Conroy's late winner. The point being we don't remember the bad starts to successful seasons we only remember the good stuff.
We're beginning to build and move on up the league. This was a 'never mind the quality feel the three points' performance. A beginning. There is still plenty of room for improvement.
Competition:

npower Championship

Date:

Saturday, 1st October 2011

Kick off:

15:00

Venue:

The Den
Millwall

0 - 1
Burnley

Rodriguez 37


Match Finished
| 48.1% | Possession | 51.9% |
| --- | --- | --- |
| 8 | Goal Attempts | 6 |
| 5 | On Target | 2 |
| 3 | Off Target | 4 |
| 9 | Corners | 4 |
| 3 | Offsides | 4 |
| 11 | Fouls | 8 |
| Referee | Attendance |
| --- | --- |
| Simon Hooper | 10,460 |
Millwall cards shown
54 mins
Brian Howard
Unsporting behaviour
78 mins
John Marquis
Unsporting behaviour
Burnley cards shown
45+1 mins
Kieran Trippier
Unsporting behaviour
70 mins
Marvin Bartley
Unsporting behaviour
86 mins
Brian Easton
Unsporting behaviour
Click here to see a full list of the football results from Saturday, 1st October 2011.